Or call 252-792-8787 for immediate, confirmed reservations during normal business hours
---
Changes at Big Mill
We no longer offer breakfast at Big Mill B&B. All our rooms and suites have kitchens or kitchenettes, so you can make breakfast in your room if you desire.
We will also be emulating some of the ideas from the popular Airbnb model like self-check in and lower rates.
ALL of our rooms are now designated for short-term leases for traveling business people like nurses, therapists, doctors and folks who are here on contract work.
We will rent orphan nights (shorter stays between bookings) if available. We still offer business rates, if available.
Everything else is still the same: the farm, the suites, the grapevine and gardens. I am still here and so are Raisin and Effie. We think our younger guests will embrace this change and, hopefully, so will our boomers.
We look forward to seeing you'all on the farm.
---
Stay in comfort - Our accommodations are spacious and comfortable to ensure that you feel right at home while staying with us. Stays for 3 months or longer are exempt from sales and occupancy taxes.
Stay connected - We offer free WiFi and cable TV to all our guests. You'll never be bored when you're staying with us!
Stay safe - We are committed to providing a safe environment for our guests.
---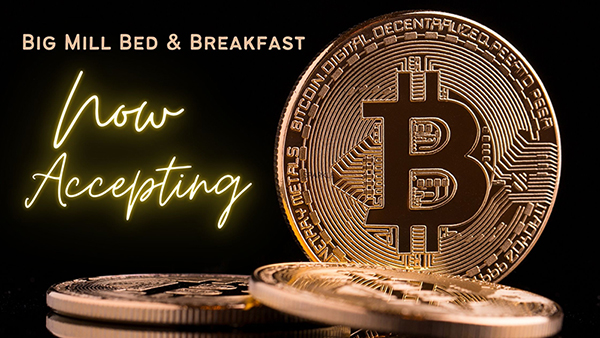 Big Mill Bed & Breakfast is now accepting payment in cryptocurrency for all services offered. We will accept Bitcoin, Bitcoin Cash, Ethereum, Dogecoin, Litecoin, USD Coin and DAI. We plan to add to this list in the coming months.
Cryptocurrency will be more and more acceptable and we want to be at the forefront of this trend. We made this decision partly because of the advantage cryptocurrency offers in the legal international trade. For us hosting international guests is a booming market.
Guests who wish to pay via cryptocurrency will be sent an invoice prior to arrival.
RATES
(Plus 7% NC sales tax & 6% local occupancy tax). NO TAX for 3-month stays.
Long term weekly $390
Monthly $1,560
Orphan weeks if available $500
Orphan nights if available $160
Long term weekly $450
Monthly $1,800
Orphan weeks if available $600
Orphan nights if available $160
Long term weekly $375
Monthly $1,500
Orphan weeks if available $475
Orphan nights if available $145
Long term weekly $425
Monthly $1,700
Orphan weeks if available $550
Orphan nights if available $155
Long term weekly $300
Monthly $1,200
Orphan weeks if available $400
Long term weekly $300
Monthly $1,200
($25 extra for second person)
Long term weekly $150
Monthly $600
Long term weekly $200
Monthly $800
---
We offer SELF CHECK-IN with flexible hours. Otherwise check-in is from 3-7 or by prior arrangement.
CHECK-OUT is 11 a.m. or by arrangement.
Open all Year
POLICIES
Smoking: For the comfort of everyone, smoking is permitted outdoors only.
Pets: We cannot accompany pets in our rooms. We will allow some dogs in the Airstream but CALL FIRST.
Children over 10 are welcome, for small children please call first. We will make every possible arrangement to accommodate families.
Guarantee Policy: A credit card is required to guarantee a reservation, unless it is made through another agency like Airbnb. We accept Master Card, Visa, Discover, American Express, Traveler's Checks and cash for payment.
Cancellation Policy: Due to the small number of rooms we have, cancellations and shortened stays can affect us greatly. Please give us as much notice as possible if you must cancel.
ASK THE INNKEEPER
Have a question about Big Mill, our area of the Inner Banks or special reservation needs? Ask it here and I'll respond right away. —Chloe
Privacy Policy: Other than what a user might supply on a reservation or information request form, we collect no personal information on this website. And we will never sell or share a user's email address, physical address or personal information.