Named One of the Top Ten Earth Friendly Inns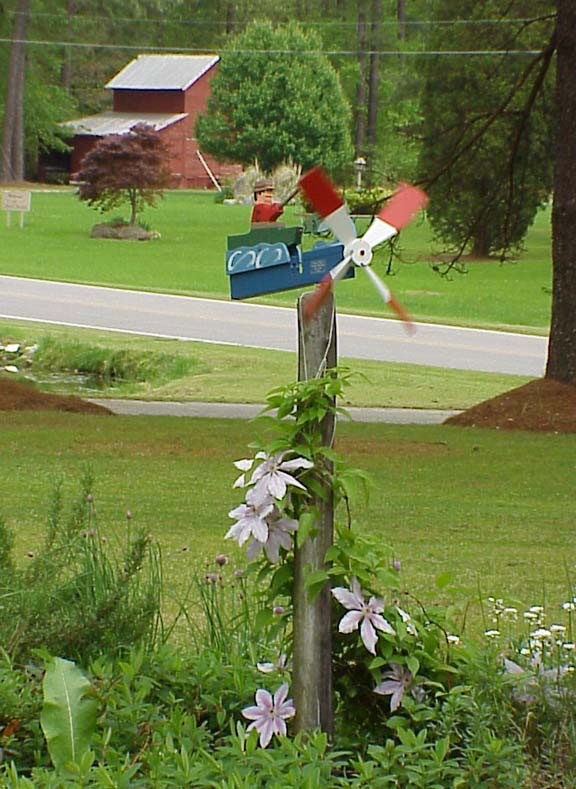 Going green is not new to Big Mill Bed & Breakfast. Growing up on a farm, it was just natural to be GREEN… anything less was wasteful, and not acceptable. Just about everything on the farm was recycled. Someone could use it. And with the Innkeeper's automobile license plate that reads "NVIRONUT", we try to practice what we preach. The following are examples of some of the things we do to help save Our Earth —
Renovations of the Inn and Big Mill Farm Buildings
We have used recycled wood and building materials throughout the Inn. Most of the doors are recycled and wood from an old wall is now a ceiling.
Pack House Suite, Corn Crib and Mule Room Suite are Big Mill accommodations that have been recycled in their use. Both are now part of the main barn, one of many buildings used on the farm since the 1930's.
Tobacco sticks that were used to cure tobacco are now used as a unique wood trim on the ceiling in the Corn Crib and Mule Room.
Original floors have been restored throughout the Inn. In the Pack House old walnut stereo speaker panels have made for a gorgeous entrance to the suite's bedroom.
Old brick and stone rubble is used to build up the banks of the lakes and to fill in holes in the farm roads.
We recycle all metal: iron tools, tin roofing, plow points and other metal associated with the farm.
Energy Conservation
The main house of the Inn uses window awnings to provide shade from the summer heat.
Throughout the Inn to promote efficiency, energy-star appliances are used to conserve energy.
Comfortable living is achieved throughout the Inn with use of energy-efficient individually controlled zoned heating and air conditioning units.
Washing and drying electric and gas appliances are energy efficient and consume less water and electricity.
LED and low voltage lighting is used wherever possible indoors and outside.
Most rooms throughout the Inn are equipped with air circulating ceiling fans.
You can open windows and doors for fresh air and to enjoy cool morning and evening farm breezes.
General Lifestyle
We recycle wine bottles, using them to decorate our garden bottle tree and to make bottle lights for the rooms.
We have a clothesline outdoors and we use it! In winter we use indoor antique drying racks which also help save energy. See our news story and photo in the Washington Post.
We participate in efforts to replace plastic and disposable bags by carrying reusable bags to the grocery and retail stores.
We provide natural soaps, use fragrance free detergents and earth friendly products such as white vinegar to clean throughout the Inn.
We avoid use of styrofoam and products with excessive packaging.
We are serious about water conservation
The Garden and Outdoor Things We Do
Practice organic gardening methods by contributing all fruit and vegetable matter to our compost pile for use in our garden; and we take meat scraps to the far woods for the critters.
We recycle our granola, fruit and bacon grease to make suet for our birds.
We pamper our trees since the farm has large 100-year-old deciduous trees that shade the Inn during summer, and allow sun to warm the Inn during winter. The stately pecan trees, over 100 feet in height, were planted by the Innkeeper's own parents.
Raise our own berries, pecans and fruits organically; therefore they are never sprayed and we only fertilize with natural organic matter.
Pest control is achieved without chemicals and by use of natural agents like boric acid and natural insecticidal soap sprays for plants.
Our favorite, most celebrated, (tax deductible since we are a farm) organic pest control measure was Moses, resident feline of Big Mill. Moses cashed in one of her lives and is now resting on the farm. But Raisin and Effie are here and we have high hopes for their mousing talents.
Finally, if we can't use it, we support our local thrift stores. You may find that our suites and rooms have been appointed with furniture and decorating items from local antique and used furniture shops.