See Roanoke River Partners for information about the camping platforms and other happenings on the creeks and rivers.
Inner Banks Outfitters on the Pamlico River – canoe and kayak rentals 252-975-3006


If you are a fisherman and want to fish in the waters of the Inner Banks of eastern North Carolina, then Captain Mitch knows every fishing hole. 252-495-1803
BIRDING
Birds love Big Mill. We have plenty of water and food; they especially like our pecans, sunflowers and blueberries. We have identified over 25 different birds that reside at Big Mill; and many more spend the night during the migration periods. We offer special rates for birds in our "Bird and Breakfast" package.
We are near several of the coastal North Carolina Birding Trail sites: Roanoke River Paddle Trail, Roanoke River National Wildlife Refuge (the Charles Kuralt Trail), Roanoke River Paddle Trail (Cashie River), Cashie Wetlands Walk, Historic Hope Plantation and the Roanoke River Paddle Trail. Goose Creek State Park in Beaufort County sponsors a Migratory Bird Day each year in May.
Sylvan Heights Waterfowl Park in Scotland Neck where dedicated aviculturalists are working to save many endangered species of waterfowl — a must-see for bird lovers. Sylvan Heights in Chloe's Blog
Message of Easter Outdoor Drama — Annual outdoor Easter pageant.

Fort Branch Civil War
Reenactment — Fort Branch springs to life the first weekend of each November and has since 1987. Civil War battle re-enactors demonstrate life in the camps, night firing of cannons, period music and other activities — all of which are free and open to the public. See the story on Chloe's Blog.

NC Bearfest in Plymouth, NC — Have you seen a bear? If you want to see one, then be sure to pop in at the North Carolina Bear Festival on the first weekend every June. See the story in Chloe's Blog.
DAY TRIPS
Historic Tryon Palace and New Bern — 55 miles. Visit North Carolina's first capitol. New Bern is a beautiful sea town on the Neuse and Trent Rivers.
Historic Bath — 34 miles. Purported to be the home of the pirate Blackbeard, Bath is on Bath Creek just off the Pamlico River. Home to sailors, Bath is very historic.
Fort Branch in Hamilton is a dirt-mound Civil War fort and each year in November, reenactors from all over the US come to play out the battle that was fought on this soil. Check the website for other events. The fort is open to visitors year 'round.

Outer Banks — Visit Kitty Hawk, Nags Head and NC's Outer Banks area. Big Mill is just an hour from the ferry to Ocracoke and an easy 85 mile drive from the Outer Banks, via US 64.
San Souci Ferry — One-car cable ferry that crosses the Cashie River in Bertie County. There are only three of these ferries left. This is a great day trip. After you cross the ferry, head on to historic Edenton.
Somerset Place Plantation — a good day trip to Creswell, NC. Read our article about Somerset Place Plantation in Chloe's Blog.
Cashie River — Self-guided canoe tour of the navigable portion of the Cashie River.
East Carolina University and Dental School
The ECU campus in neighboring Greenville is just a short 25-mile drive from Big Mill Bed and Breakfast.
AREA ATTRACTIONS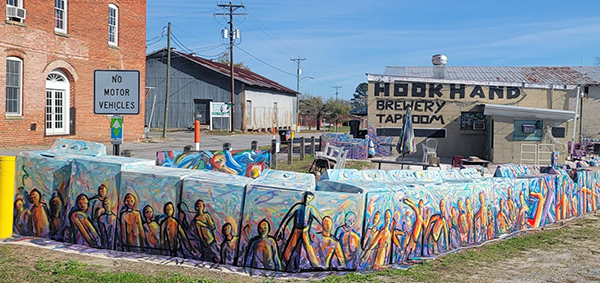 Mural painted on a wall of used appliances at the Hook Hand Brewery & Taproom in downtown Williamston.

Senator Bob Martin Eastern Agriculture Center — The center hosts numerous horse and riding shows during the year and draws many people to the area. The Bob Martin Agricultural Center is just three miles from Big Mill Bed and Breakfast.
Deadwood — A family owned and run theme park offers train rides, miniature golf, live entertainment and food.

Sunnyside Oyster Bar — Authentic raw bar open only in the months that have an "R" in them.
Hope Plantation — Beautifully restored home of David Stone, former Governor of North Carolina, this house offers excellent insight into rural life in North Carolina during the late 18th Century.
The Original Washington is just down the road and you can walk the waterfront, visit the shops or the Estuarium. You can also visit Goose Creek Park in Beaufort County while you are there.